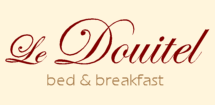 Le Douitel is a beautifully renovated south-facing farmhouse in the tranquil countryside of Normandy.
Grey Room + Shower
Red Room + Bathtub
Orange Room + Shower
Our guestrooms are named by their colour and are all decorated with antique French furniture. We offer Table d'Hote dinner eaten 'en famille' with us.